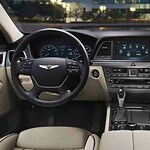 If you are currently in the market for a luxury midsize sedan, you really should stop by Genesis of Cleveland and take a look at the Genesis G80. There are some great features that enhance the comfort and convenience for drivers and passengers alike. This puts the fun back in driving again.
Just sitting in the Genesis G80 is a comfortable experience. You will find that you have more than enough legroom to go around. The headspace is impressive as well. With the available cooled and heated seats to go with it, you might just never want to arrive at your destination.
Putting stuff in the trunk is convenient as well. Just keep the key in your pocket and stand next to the trunk. You will find that it opens automatically for you, so there is no need to worry. You can take the Genesis G80 out on a test drive as soon as you visit Genesis of Cleveland.