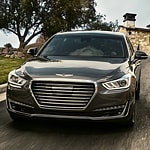 Here at Genesis of Cleveland our customers appreciate the Genesis commitment to driver safety. That commitment has never been stronger than it is in the Genesis G90. This popular midsize luxury sedan includes superior braking and other safety features which can help drivers avoid accidents.
The Genesis G90 has 4-wheel disc brakes which are equipped with brake assist. Even the best drivers can fail to react in time, but the G90 helps by an intuitive automatic application of the brakes when needed. Coupled with this is the G90's traction control which helps to stabilize the sedan on slippery surfaces.
We want to invite you down to our dealership here in Cleveland, OH where you can test drive the Genesis G90 today and experience its impressive set of safety features. Our friendly sales associates will also be happy to answer any questions that you may have about any of the vehicles in our inventory.